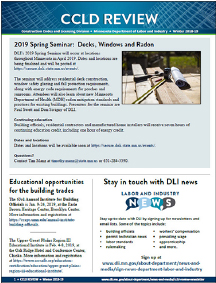 View the winter 2018-19 edition of the CCLD Review
Some of the stories in this edition include:
2019 Spring Seminar: Decks, Windows and Radon

Educational opportunities for the building trades

Building official limited and accessibility specialist training programs scheduled

Building official apprenticeship program

DLI begins adoption process for 2018 I-Codes

Committee reviews 2018 Uniform Plumbing Code for possible adoption

Online plan review and permit applications begin in 2019

Frequently asked questions about places of public accommodation

License renewals approaching

Inflatable amusement equipment requires annual electrical inspection

Corrections and changes to National Electrical Code available online

... and more.
About the CCLD Review
The CCLD Review is a quarterly publication that promotes safe, healthy work and living environments in Minnesota and informs construction and code professionals about the purpose, plans and progress of Construction Codes and Licensing Division. Subscribers may also receive periodic updates about CCLD activities and seminars.
View previous editions of the CCLD Review newsletter.
Questions?